Nonlinear THz Control of the Lead Halide Perovskite Lattice
May 2023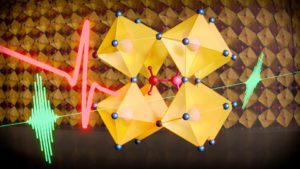 Lead halide perovskite (LHP) semiconductors emerged as an excellent material platform for next-generation solar cells and optoelectronic devices, but the microscopic origin of their surprising optoelectronic properties, such as long charge-carrier lifetimes and long diffusion lengths, continues to be debated. These LHP properties are typically tailored by fine-tuning the lattice structure through modifications in chemical composition or morphology. Phonon-driven ultrafast material control, representing the dynamic counterpart to chemical engineering, has nevertheless been mostly elusive.
In a new experimental work recently published in Science Advances, the THz Structural Dynamics group employs intense single-cycle THz electric fields to investigate the ultrafast lattice responses in hybrid CH3NH3PbBr3 and all-inorganic CsPbBr3 perovskites. By probing the THz-induced Kerr effect, they witness a strong THz polarizability and achieve direct lattice control via nonlinear excitation of coherent octahedral twist modes in these materials. The observed Raman-active phonons between 0.9 and 1.3 THz govern the ultrafast nonlinear lattice response in the low-temperature orthorhombic phase and thus dominate the phonon-modulated polarizability. The results indicate that these phonons might contribute to dynamic charge carrier screening with implications for LHPs' optoelectronic properties beyond the conventional Fröhlich polaron picture. Moreover, this work paves the way for selective control of LHPs' vibrational degrees of freedom governing phase transitions and dynamic disorder, and puts ultrafast material design of these semiconductors into reach.
The full scientific study is now open access published under https://doi.org/10.1126/sciadv.adg3856. A comprehensive press release in German and English can be found here at FHI News.