Institute Spring Reception on May 6th
May 2022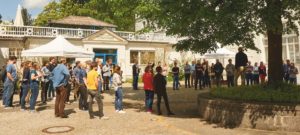 After the traditional New Year's coffee had to be cancelled for two years due to corona, the FHI employees were happy to finally come together again with a sparkling drink, finger food, a delicious bratwurst and wonderful weather at the Haber lime tree.
Hyperbolic shear polaritons in low-symmetry crystals
Feb 2022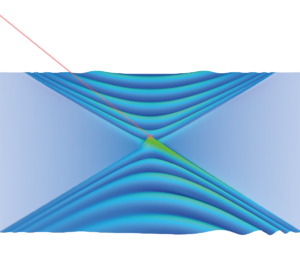 Figure:
Hyperbolic shear polaritons are coupled light-matter waves which were discovered to exist at the surface of monoclinic crystals. Due to the low crystal symmetry, these waves are not mirror-symmetric.
The lattice symmetry of a crystal is one of the most important factors in determining its physical properties. Particularly, low-symmetry crystals offer powerful opportunities to control light propagation, polarization and phase. Materials featuring extreme optical anisotropy can support a hyperbolic response, enabling coupled light–matter interactions, also known as polaritons, with highly directional propagation and compression of light to deeply sub-wavelength scales. Here we show that monoclinic crystals can support hyperbolic shear polaritons, a new polariton class arising in the mid-infrared to far-infrared due to shear phenomena in the dielectric response. This feature emerges in materials in which the dielectric tensor cannot be diagonalized, [more...]