DFG funds project within Priority Program 2D Materials
Oct 2020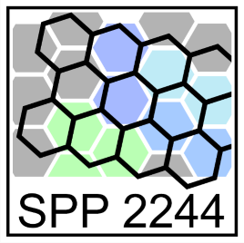 Two-dimensional (2D) materials are crystals with a thickness of only one or very few atoms. After the discovery of graphene, the most prominent representative of this class of materials, many other 2D crystals have been identified, often with intriguing properties that have no counterparts in three-dimensional solids. The German Science Foundation established the Priority Program SPP2244 2D Materials – Physics of van der Waals heterostructures.
The Structural & Electronic Surface Dynamics Group participates in this consortium with the project Tailoring electronic correlations, excitonics and topological properties in van der Waals heterostructures on ultrafast timescales. This project aims at getting a quantum state-resolved, microscopic understanding of the role of electronic correlations, excitonics and topological properties on ultrafast relaxation dynamics in prototypical heterobilayers made of semiconducting and of Weyl semimetallic transition metal dichalcogenides (TMDCs).
To achieve this goal, multidimensional extreme ultraviolet (XUV) time- and angle-resolved photoemission spectroscopy (trARPES) will be used. The unique coupling of high-photon-energy (XUV), high-repetition-rate beamline with a 4D photoelectron detector, make this apparatus an extremely powerful tool to measure the electronic band structure of out-of-equilibrium van der Waals heterostructures.