New paper in Natural Sciences: Full experimental characterization of an exciton.
Jun 2021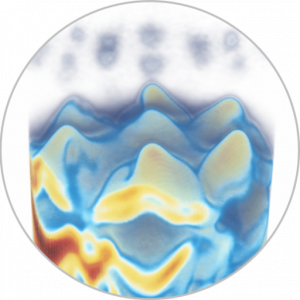 When a material absorbs visible light, an electron is lifted to a higher energy level. In semiconductors and molecular crystals, the excited electron and the hole it leaves behind attract each other. Such Coulomb-bound electron-hole pairs are considered to be new particles called excitons, which govern the optoelectronic properties of semiconductors. Although optical signatures of excitons have been studied extensively, experimental access to the excitonic wave function itself has been elusive. Using multidimensional photoemission spectroscopy, we present a momentum-, energy-, and time-resolved perspective on excitons in the layered semiconductor WSe2. By tuning the excitation wavelength, we determine the energy-momentum signature of bright exciton formation and its difference from conventional single-particle excited states. The multidimensional data allow to retrieve fundamental exciton properties like the binding energy and the exciton–lattice coupling and to reconstruct the real-space excitonic distribution function via Fourier transform. Our approach provides a full characterization of the exciton properties and is applicable to bright and dark excitons in semiconducting materials, heterostructures, and devices.
Full publication: Dong et al., Natural Sciences 2021, e10010.
There is a related Highlight article by Prof. Ursula Wurstbauer:
Disclosed: Quasiparticle properties and dynamics in real and momentum space. Natural Sciences 2021, e10017.